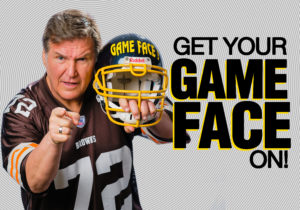 Dave Mager is an inspirational speaker who travels across the country empowering people to improve their lives.  Dave helps others take an honest look at obstacles within their heart and soul that hold them back from reaching their God given abilities.  As a result, people everywhere have achieved the perfect balance in their lives of God first, family second and then finally their careers.  Lives across America are being lived with a passion and a true sense of purpose. This new found balance will empower people today to transform their world tomorrow. 
Dave Mager is  also a sought-after youth, church and business conference speaker with non-stop energy and excitement, Dave pushes us to celebrate real success by prioritizing our life – with God, family, and business. Dave is an accomplished Inspirational speaker, motivator, and author who empowers us to be the best we can be, maximizing all of our God-given abilities. So get ready to put on your "God Game Face", and watch how it will revolutionize every aspect of your life in Christ so may impact others. Like it says in the word "Christ came to give life and give it more abundantly" Let Dave help you become a VICTOR instead of a victim.
TOPICS
Empowering Personal Growth
Knowing Your Worth
Finding Your Purpose
Reigniting Your Passion
Recognizing What is Holding You Back
Improving Your Attitude
Developing Leaders
Getting Your GameFace On!
TESTIMONIALS
"Dave has provided education and inspiration to us more then anyone has in the last 10 years with his speaking.  We will have Dave as a guest speaker for years to come!"  — Tom F., logistics company president
"I worked with Anthony Robbins' team for 5 years through college and it was pretty amazing. Although this weekend I heard Dave Mager and talk about amazing . If I had to choose between Anthony Robbins and Dave Mager to go see, I'd choose Dave because he's real and so inspirational. He literally has change my life FOREVER!"  — Dr. Steve V., participant in The C4 Program
"After listening to [Dave's] story I found myself thinking that I have not been engaged in life but that I was just going through the motions.  With my spiritual, family and office life.  I knew that first I had to get right with the Lord and then I have to get right with my wife and kids."  — Geoff W., D.C., chiropractic clinic owner
"Most of all I want to thank you for helping me realize that I needed a change in not only my physical life but more importantly my spiritual life."  — Michael D., The C4 Program participant
"As a speaker Dave truly walks his talk and deliver a message that is true which is his purpose."  — Robert B., small business owner
"I had the privilege to be Dave Mager's football coach his senior year at Streetsboro High School. He was named team captain and converted from running back to quarterback so he could have the ball on every play. He led the team to a successful season and was an all-state quarterback. More importantly, Dave inspired his teammates to reach their God-given abilities. It is no wonder Dave has inspired so many people in his adulthood profession! Dave has and will continue to help people reach their God-given abilities by putting their game face on every morning."  — Coach Gibbons, Ohio Hall of Fame of Coaches inductee
"When speaking with our top students at Geneva High School, Dave was able to connect so easily with both the students and their parents.  He set the standard for our future speakers."  — Ford B., Geneva Rotary Breakfast of Champions Chairman